When it comes to picking the perfect diamond necklace, there are a few main things that you will have to consider. You will have to choose the length that you want, and how you want the diamonds to be styled. There are flashy necklaces that are perfect for big occasions and special events, and simple and sleek pieces that are suitable for every day wear. Here are some of the options that you have to choose from: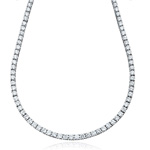 Tennis Necklaces
A tennis necklace has the diamonds around the entire necklace, but the diamonds are bigger and there is no chain. You cannot see anything between the diamonds. Tennis necklaces can be the perfect option for someone who loves a flashy piece of jewelry. It is sure to wow and is often a preferred choice for special occasions such as proms and weddings.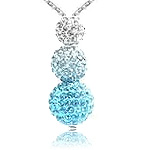 Gradient Pave Style Necklaces
Gradient Pave Style- This style of necklace makes the diamonds look almost as though they have been clustered all together. It is common to see this style of necklace in a variety of different colors and shapes. One of the popular fashion trends for 2013 is gradient style necklaces that showcase different shades from a particular color. For example, a necklace that contains dark blue, medium blue, light blue and colorless diamonds in the design.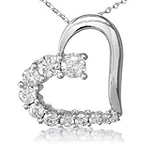 Heart Pendant
The heart pendent is the perfect piece of jewelry piece for someone you love. There are options that contain diamonds around the entire heart, or just on one side. Another feature that you will be able to choose when it comes to heart pendants is the length of the necklace. Another cute idea for a heart pendent is using pink gold for the chain and heart, and colorless diamonds for the stones.

Back to Top