Types of earrings design & Styles
Studs
Stud earrings stay close to the ear. The benefit of this particular style is that it's great for show casing one big stone or gem.
Hoops
Hoops vary from studs because they come in the form of a loop and only touch your ear in one place. Hoops come in different shapes and sizes, and have been worn with no gems or stones. Many Hoops are also comes with Pave or micro pave setting. These settings of stones will make your hoops appear as though they have rolled around in a bunch of diamonds.
Drops
These types of earrings are named after the way that they are styled. Instead of sitting on the ear lobe a drop earring sits below the ear lobe. It usually features a special stone or gem, such as a diamond or pearl. Drop earrings are more appropriate for the office or work than hoop an earring, which are better for going out and dates. They are an overall great option that can easily transform into a day to a nighttime accessory. For something sophisticated and sleek for the office, you can choose a simple silver drop earring with an amazing diamond. And if you want something funky and fun to wear out on a Friday night, you could choose a fancy color diamond such as a pink or blue.
Choose your Diamond Size
Before you decide on the size of your diamond, you need to decide how much money you can spend. If you are determined to purchase a big rock but you don't have the budget- you can purchase less carats. If you are determined to find a diamond that shines, you might choose a smaller diamond with a classier cut.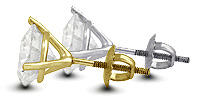 Choose Your Metal
When it comes to choosing your metal, you should consider three different factors. These three factors include the gem/stone you are paring it with, your skin tone, and how much money you have to spend. Again, how much money you have will impact what you are able to buy but you can still go for a similar look. For example, platinum and white gold both look white- but platinum is much pricier.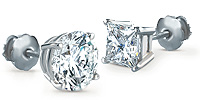 Choose Your Diamond Shape
If you are looking to go for a diamond shape earring, round is the most popular one but if your looking for some thing more unique a princess cut diamond is an absolute classic. It's sophisticated and can make any outfit go from blah and boring to beautiful.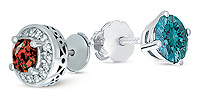 Choose Your Diamond Color
If you are looking to go for a classic, you could choose a colorless diamond. I would recommend this if you are going to go with the princess cut stud earring. A popular diamond color for hoops in recent years has been black diamonds. The special color of these diamonds can make the piece look mysterious or dark, without being too flashy. They are often more modern, which reflects styles of today versus styles of yesterday.
Choose Your Budget
If you are buying diamonds, you should always base the value off of the 4 C's- cut, color, clarity, and carat.

Back to Top