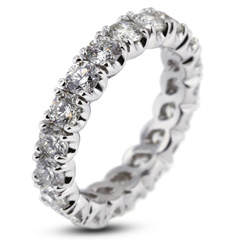 Diamond Traces offers a selection of full eternity rings. In a full diamond eternity ring, diamonds surround the entire ring so it is always perfectly positioned. Diamond eternity rings sparkle from every angle and beautifully symbolize eternal love, making them popular gifts for significant occasions in a couple's relationship, such as a monumental anniversary, overcoming tremendous obstacles, or celebrating a child's birth.

Hover pictures to see different views:





The Design
Because of the simplicity of eternity rings, there are fewer design variations than with engagement rings. Nevertheless, there are differences between styles, and couples can choose a setting, metal, shape, or other characteristic to reflect their individual preferences.
The Stone Shapes and Sizes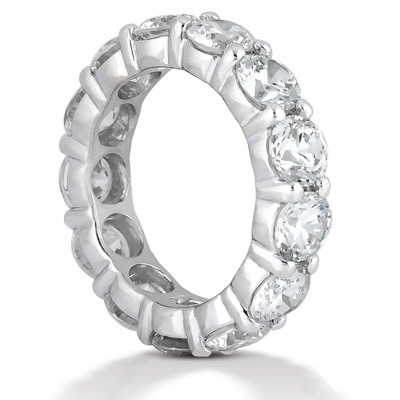 Since these rings require that stones be nestled closely together, compact shapes are the most popular, including round, princess, asscher, radiant and emerald cuts. Rings do not usually mix stone shapes or sizes, in order to preserve the continuity of the design. Because full eternity rings have stones around the entire finger, only smaller gems can be used for comfort. Because of the number of stones used in eternity bands, the total weight of the band may be far greater than traditional engagement rings, and in order to make the rings more affordable many consumers prefer smaller stones.

Hover item to see different cut:
Princess Cut
Oval Shape
Marquise Shape
Emerald Cut
The Setting
Because eternity designs have very close-set stones, setting choices can be limited. Prong settings give the ring the appearance of being composed only of diamonds, similar to a pave setting.
Wearing an Eternity Ring
Many women choose to replace either their wedding band or engagement ring with the eternity rather than wear three separate rings. If the rings are slender and do not look out of proportion with your fingers, however, it is perfectly acceptable to wear an eternity band in addition to other significant rings. Take care that the eternity band's setting is compatible with adjacent pieces; however, uneven settings such as prongs may rub against other rings and cause scratches. Like any delicate jewelry, eternity rings should be removed before household chores, sporting activities, or other potentially hazardous pursuits.
Cost Considerations
Eternity pieces vary in cost from several hundred to several thousand dollars. Characteristics affecting the price of an eternity ring include: type of metal, stone quality, and ring size (as larger rings require more diamonds to create an eternity band). Because full eternity rings must be customized and stones must be size-matched, the price can be significantly greater than for a traditional diamond ring, even using smaller or lower-quality stones. Many couples consider cutting the cost of an eternity ring by opting for lower quality stones (with such small gems, flaws are not typically as noticeable).

Please Note: Eternity bands cannot be resized and must be completely remanufactured.

Back to Top